Overall: ***   Design: *****   Performance: ***
Price: $5   
This pineapple easy slicer is definetly the solusion for people who hates peeling pineapples.Plus it is *dishwashable.There are two models to choose from: plastic and stainless steel.
Compare between two models:
Plastic model:

 # It cuts perfect for any pineapple size, no waste on the edge.

 

# 50% Cheaper

# However, the handle brokes quicker (about 3 years use)

Stainless steel model:  # It requires much less force than the plastic version to cut through the pineapple. # It makes thicker slices. # Stainless 

# However, it leaves lots of waste for a bigger Pineapple as it leaves a lot of the edges. # Sometimes, it is too sharp to stay cutting in the center.
Product description:
•Peels, cores, and slices an entire pineapple in seconds.
•Made from durable, stylish stainless steel with a medium-sized blade.
•Create one slice at a time or cut up the whole fruit at once.
•Makes perfectly-shaped rings; preserves shell intact to use as a bowl.
•Ideal for a hostess gift or for tropically themed parties.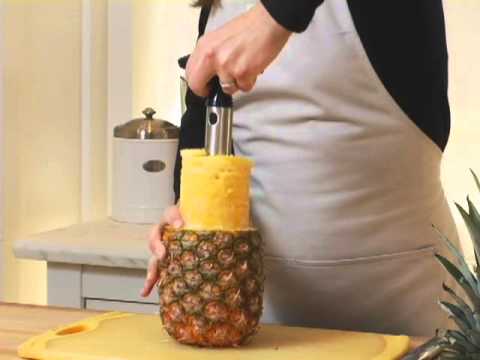 Pineapple Easy Slicer
Dishwashable 
No mess
Cheap price
Stainless steel model: Lots of waste for a bigger Pineapple as it leaves a lot of the edges

Plastic model: the handle may breaks in three years.
Author Suggestion: The steel pineapple easy slicer cuts easier but doesn't cut edges of a big pineapple. For me, not wasting any pineapple is very important. Wating pineapple=wasting money. Although, the plastic pineapple easy slicer doesn't last as long as the steel one, it is 50% cheaper. If it breaks in couple years, just buy another one! After all those comparison, I would buy the plastic model. For the people who doen't care about wasting a bit pineapples, I suggest you to buy the steel model.
Available in:
Product details
Color    Selection:1
Product Dimensions:
11.4 x 8.6 x 24.1 cm
Weight: 200 g
Model    selection:
plastic or stainless steel